As much as I can, I try to incorporate travelling into long-term experiences rather than doing tourism, to get a better chance to integrate myself in the culture, and to participate in the day-to-day student or working life with other people.

"Un voyage se passe de motifs. Il ne tarde pas à prouver qu'il se suffit à lui-même. On croit qu'on va faire un voyage, mais bientôt c'est le voyage qui vous fait, ou vous défait."
Nicolas Bouvier. L'usage du monde. Éditions Payot, 2001.
"Travelling outgrows its motives. It soon proves sufficient in itself. You think you are making a trip, but soon it is making you – or unmaking you"
Below, are a few pictures I took in the diverse foreign places I lived, to illustrate what I learned from being there. If you're hungry for gorgious touristic pictures, you may not find what you're looking for! :)
Japan 1994-1995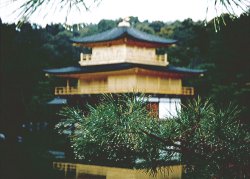 I lived in Japan for one year as an exchange student between March 1994 and February 1995, thanks to the AFS international NGO. I started learning Japanese in September 1993 and it was during one Japanese lesson that Professor Buriez told the class about AFS. I just can't thank him enough!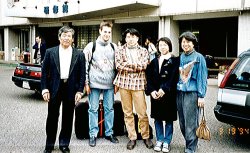 The very first meeting with my host family in Tokyo. Their warm welcome and their constant attention helped to make this experience invaluable: while improving my Japanese, I had an in-depth immersion in Japanese culture, arts, cooking, etc.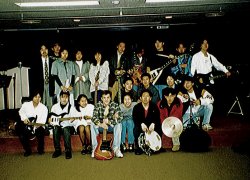 The members of the shool music club. I attended class in Japanese at the Oizumi Gakuen High School (second year). In Japan, classes end at around 2pm and are followed by clubs until 5:30. I started playing the guitar in that music club and have never stopped since. Daily sessions alternated band rehearsals for live shows, and personal technical practices.

Iceland 2001

The Thingvellir rift valley, close to Reykjavík, separates the European and American tectonic plates.
I lived in Iceland as an Erasmus exchange student between January and June 2001, in Reykjavík.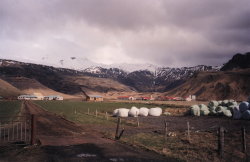 A typical Icelandic farm. As a Master student in agronomy, I found Icelandic farm systems very interesting to study because they struggle with a lot of environmental constraints: rainy weather, shallow fertile layers, soils being frozen six months a year, etc. Nevertheless, sheeps and dairy cows can be raised with large stocks of forage.
I also wrote some reports for the University of Iceland dealing with the influence of Icelandic litterature on JRR Tolkien, and on historical and scientifical study of Norsemen climate.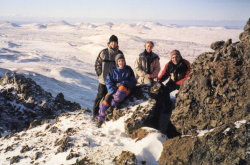 Hiking Icelandic mountains with Austrian and French friends. The hilly ridges you can see at the back actually are the remnants of volcanic eruptions which took place under the glaciers that completely recovered this area a few thousands years ago. A punctual crater forms a volcano whereas a linear crater results in such ridges.

Canada 2002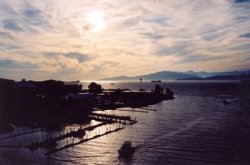 The bay of Vancouver.
I did my Master training period and thesis in Vancouver between April and September 2002, at the IRES of University of Brittish Columbia. My Master thesis is available on my research webpage. It deals with hydrological modelling on a semi-urban watershed, in the vincinity of Vancouver. I have been supervised by Professor Hans Schreier with whom it was such a great pleasure to work.


I met Sean White by chance, as one of the housemates. He is a photographer and movie-maker who combines vitaminated ingredients in his documentaries: foreign culture, extreme sports, creative camera positions and a huge sense of humour. We collaborated on his movie Never ending thermal (2003) for logistics and music (see my multimedia webpage).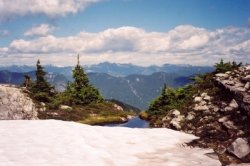 Some sceneries from the rop of the Colliseum mountain, a few kilometers north of Vancouver. Steep mountains and coniferous forests occupy large areas on the west coast. Wilderness extends on thousands of kilometers. Time for a local joke? OK...
Question: "What's the difference between a brown bear and a grizzly when you try to escape them by climbing in a tree?"
Answer: "The brown bear climbs the tree, whereas the grizzly bends the tree"... 'd better take it seriously ;-)

Last update of the travels page: 06 March 2012-00:19.