My resume is available in English (lucsorel_resume.pdf) and in French (lucsorel_cv.pdf).
Click to download my resume (PDF file in English).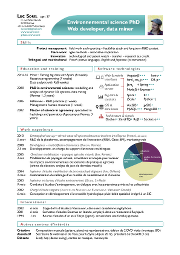 Cliquez pour télécharger mon CV (fichier PDF en français).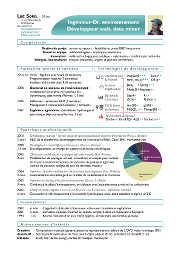 Personal details
Professional skills
| | |
| --- | --- |
| Project management | field work and reporting, feasibility studies and long term R&D projects |
| Team work | agile methods, associative implication |
| Training | courses and trainings (for master degree levels), speaker |
| Innovation | technological and patent watch, transfer, research tax credit |
| Trilingual and multicultural | French (native language), English and Japanese (in immersion) |
Work experience
2017-18
Tech-lead – editorial content provider team (Ouest-France, Rennes)
8 months
Refactoring of the µ-services dedicated to the pre-processing & delivery of editorial content: Springboot 2, kotlin, ElasticSearch, PostgreSQL.
105 hours
Courses & trainings for 3 modules of 35 hours each: DAO&ORM (Java), Node.js, AngularJS.
2016
Web developer – energy efficiency for smart manufacturing (Energiency, Rennes)
13 months
Full-stack development, data collecting and pre/post processing: Java8, Node.js, MongoDB, AngularJS.
2010
Startup developer & growth hacker – data synchronisation SaaS (Podbox, Betton)
5.7 years
Team design and full-stack development, innovation partnership and promotion (IRISA, Oséo-BPI), web marketing. Java8 & Spring, MySQL, AngularJS.
2008
Developer – ad multicasting (Ubiflow, Saint-Grégoire)
2.5 years
Plateform and backoffice development, in charge of multilingual ads support
2005
Modelling researcher – virtual landscapes (INRA, Rennes)
3 years
Virtual landscape modelling and scenario analysis to assess the environmental impacts of agrosystems on soil and water quality (stochastic decision trees, massive dataset analysis)
2004
Modelling engineer – soil and hydrological processes (INRA, Orléans)
4 months
Self-parametrization of a runoff and erosion model (Stream)
2003
Science consultant in an environmental agency (GEODIA, St-Malo)
9 months
Development of impact studies of urban development plans, coordination with private and public partners
2002
Developer trainee (Institute for Resources and Environment, Vancouver, Canada)
6 months
Design, development and assessment of a GIS rainfall-runoff hydrological model
Education and training
An innovative methodological approach based on mutual reflective observations to develop cooperation for building research questions in real work situations.
2014-16
Mooc: Taming big data with Spark (8 weeks)
Innovation marketing & personas (4 weeks)
Reactive programming (7 weeks)
Data analysis with R (8 weeks)
2008
PhD in environmental sciences: modelling and analysis of dynamic 3D systems, data mining (Rennes 1, 3 years)
2006
Réflexives®
– reflective training on R&D practices (1 week)
Management, human resources (1 week)
2002
Master of science in agronomy, specialised in hydrology and geomatics (Agrocampus Rennes, 3 years)
International experience
| | | |
| --- | --- | --- |
| 2014 | 2 weeks | Frankie Manning centennial and cultural visits in New York, USA |
| 2011 | 3 weeks | Hiking and cultural trip in New Zealand |
| 2002 | 6 months | Training period at Vancouver, Canada (west coast) |
| 2001 | 1 month | Assistant in an agronomical horticulture laboratory at Reading, United Kingdom |
| 2001 | 6 months | Erasmus exchange program in Iceland, employee in a restaurant in Reykjavík |
| 1994 | 1 year | One year scholarship in Tokyo (Japan), hosted in a native family |
Computer knowledge
| | |
| --- | --- |
| Skills | full-stack javascript (NodeJS, MongoDB, AngularJS), full-stack Java (Spring, GWT), Scala, MySQL, R/S+, web design (HTML5, CSS3, A/B testing design & metrics) |
| Programming idioms | object-oriented, functional, reactive (Akka, Reactive eXtensions) |
| Production softwares | IDEs (IntelliJ, Eclipse), statistics (R/S+), office suites, AWS monitoring, Computer-Assisted Music production (Logic) |
| Operating systems | Linux (home & office), Windows (98 to 7) |
Extracurricular activities
Creation
Music writing (guitar, piano) recording and show, co-edition of 2 DVD (edition and soundtrack)
Association
Webmaster and secretary of Tous pour la Syrie (since 2012)
President of DocAIR, network of early-stage researchers of INRA and Agrocampus (1 year)
Leisure
Lindy hop (swing dance), story-telling with music, unicycle
Tous pour la Syrie, a non-profit association based in Rennes (France, Brittany) dedicated to providing humanitarian help to the Syrian people and develop friendship between French and Syrian people.
Doctorants et Docteurs non-permanents d'Agrocampus-Rennes et du Centre INRA de Rennes, an association of the early-stage researchers of INRA and Agrocampus, which organizes information meetings, festivities and generally promotes the transversal skills of PhD candidates.
Research publications
Visit my research page
Stimuler votre R&D avec le CIR !

Le Crédit d'impôt recherche (CIR) est un dispositif fiscal du MESR destiné à dynamiser l'innovation des entreprises ; notamment en tenant compte de 200% des dépenses de salarisation et de fonctionnement des docteurs recrutés en R&D !
Téléchargez-le diaporama de présentation du CIR (modalités 2008) que j'ai réalisé pour vous.
Last update of the resume page: 27 June 2018-19:27.